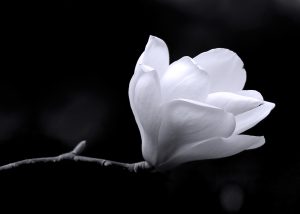 Last week I was early for a meeting near the luxurious Avenue Montaigne in Paris, and so I took a stroll, enjoying the summery displays in the windows of Chanel et al. on this grey February day.
Everywhere people were carrying shopping bags with the logos of this world's most luxurious brands. And then I noticed something interesting: one could clearly divide those shoppers de luxe into two categories: the ones who enjoyed themselves and the ones who didn't.
The two ladies over there whose jewellery was probably worth more than my house looked just bored and blasé. This young couple from Asia on the other hand, LOADED with Dior bags, was clearly having such a good time, it was refreshing to see. II would have liked to ask them to show me their finds, just to share their fun and enjoyment!
In my book luxury exists to bring more joy into our lives. Of course "luxury" is not confined to shopping tours in the most expensive avenues in Paris. Most of us can't afford to throw the GDP of a small country into an afternoon's shopping! But feeling luxuriously, which is what these shoppers were all after – and in the case of those two ladies clearly in vain – feeling luxuriously is easy to obtain!
I'm a huge believer in easy elegance – upgrading your every day with simple and beautiful things and actions. I also believe that elegance is to be lived on the inside and on the outside, that we can fill each day with little luxuries, none of which requires you to break the bank.
Here are my favourite things to buy for an instant shot of luxurious feeling:
1.Freshly baked bread. Ah, the smell of freshly baked bread. Real bread made by a baker proud of his art. Luckily we still have those in Paris. A still warm baguette with a crisp crust and a mie fondante or a pain Poilâne (I confess an addiction).
2. A demi bouteille of first-class champagne. A glass or two to add spark and poetry to a morning or an evening.
3. A special wine glass. Get yourself a petit ballon for that French bistro feeling or a simple and beautiful crystal glass. Make drinking your wine something special: I buy my wine from a lady who knows the grower of every wine in her tiny shop personally. When I go home with my bottle, I have not only bought some wine, but a story of passionate winemakers (often women BTW), of families perpetuating a tradition, of harvests, of good and bad years.
4. Chocolate. Of course. But chocolate is unforgiving when it comes to quality. So go for the best, preferably dark, chocolate you can get your hands on. It will be worth every penny. Shall I tell you a secret? First class dark chocolate is the best remedy to get over any sugar addiction you might have!
5. A real candle. Not some paraffin-sprayed artificially scented neon-coloured "candle". Natural ingredients: beeswax or stearin, and if you want it scented go for natural flavours. No designer lamp can make you and your home look better than the light of a couple of candles.
6. Essential organic lavender oil is one of those magic ingredients which transforms everything with just one drop: on your pillow, into your body oil, into your washing machine, on the filter of your vacuum cleaner, into your bath (diluted in some honey), even for your desserts.
7. Cheese. Of course one cannot not love cheese when one lives in France! Général de Gaulle famously asked: "Can you govern a country which has two hundred and forty-six varieties of cheese?" Frankly, I'm surprised that there should be only two hundred and forty six! A good affineur is an artist and people will patiently queue while he explains to each customer exactly when and how which cheese is to be eaten with what!
8. Fresh fruit. A melon riped to perfection filling the kitchen with its subtle perfume. A juicy pear. A passionfruit, looking all wrinkled on the outside and then there's a taste explosion with the first spoon. The first garriguette strawberries in spring.
9. A thick, soft, white face towel. Press it against your face and feel all your cells exhaling.
10. New underwear. Even if you are not going for the frilly lacy number – a simple, well cut white cotton undie is extremely elegant and will make you feel instantly more put together. Don't forget to throw out your old ones!
11. Soap. My travel souvenir of choice. No really. Penhaligon's or Bronnley's from London, soaps made with donkey's milk from the Ile de Ré, the soap with little bits of mountain flowers from Switzerland that smelled like a meadow….
12. A pair of cashmere socks. Not the right moment for that 500 Dollar cashmere sweater? Go for a pair of cashmere socks instead. A cup of tea, a great book and a pair of cashmere socks will make you feel like you're in a châlet in Switzerland.
13. A French coffee press. You smell the ground coffee. You wait for the water to reach the perfect temperature. You pour, let infuse, press and voilà – your perfect cup of coffee! Simple, efficient, noiseless, beautiful, no plastic or capsules involved. Elegance.
14. A flower. You can transform a room with just one flower. Try it!
15. First class, cold pressed organic olive oil. Nectar of heaven. Find a place where you can actually taste different olive oils. If you are like me, the one you'll love will probably be the priciest one, but you don't need a liter. Get a small bottle and enjoy a fresh baguette with olive oil and bit of fleur de sel. Le bonheur!
What are your go-to's when you want to add a spark of luxury to your day?