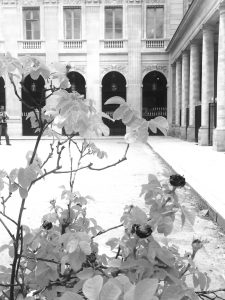 Our group was sitting in a café in the Marais, it was one of those warm summer evenings that make Paris achingly beautiful. It was a good-bye gathering for a Parisian, née American friend who is to to return to the States after nearly 20 years here. Our conversation drifted to what she would miss, resp. what she will do differently after having lived here for so long.
Not surprisingly, food came up first. And behind the conversation about farmer's markets, baguette and French vs. American butter, what we really were talking about is how Paris had formed all of us.
This city has certainly left her imprint on me. I came here to study theatre for three months. That was more than 25 years ago and Paris has since been a teacher for every aspect of my life…
Paris does not leave anyone indifferent. Should life put me into another place on this earth, I'd have the City of Light in my system and could not help but take her with me wherever I go.
That evening on my way home I thought about the lessons Paris taught me, sometimes patiently over the years, sometimes with tough love:
1.) Elegance. Paris is loud, dirty and snooty – but there is style and elegance at every corner: a beautiful door in a Haussmanian building, a statue in a little square, a galérie, the way produce is presented at the market stalls, a woman passing by, wearing a scarf with this je-ne-sais-quoi attitude or the inimitable way in which French waiters put the crème et croissant on the table. Looking out for these little sparks of elegance has become a second nature.
2.) Living in Paris has turned me into a food snob and that is that. Although fast food and triple frappucinos are on the rise, Paris is still a place where people know how to celebrate food. The other day a lady in the fromagerie nearly cried with happiness when she discovered that the shop is now selling beurre Bordier (the Rolls Royce of butter) and the shop owner very proudly told us that it took her more than 6 months to get the qualification for this particular butter. Everyone in the queue knew about beurre Bordier and what a feat it is for a shop to be able to sell it. Ca c'est la France.
3.) Etiquette. Parisians can be incredibly rude (just drive here for ten minutes or take the metro during the rush hour to get an idea of HOW rude), but he same guy who drives like a maniac will hold the door open for you and help you with your luggage. Savoir vivre counts. Etiquette matters. You don't shout. You don't drink yourself stupid and yell in the street. You know how to use a knife and fork properly. When you enter a shop, you say 'Bonjour', 'Merci' and 'Au Revoir'. You address a person with 'Madame' and 'Monsieur'.
4.) Running things with the precision of a clockwork or being reliably punctual is not a French forte. An attention to detail and how to make things look good is. Paris in particular knows how to stage things – whether it is a ceremony, a castle, how to cut a dress (to make its wearer look good) or to lay a table (to celebrate the food). La mise en scène is everywhere in Paris. Whatever eye for detail and beauty I have, I owe it to the City of Light.
5.) Resilience. There is a "go-on-with-your-life-whatever-happens" energy in this city. We certainly had our share of heartbreak and horror, and yet, each time the response from people here is the same. We are shocked, we mourn, but we continue to live life exactly as we choose to. Fluctuat nec mergitur. Parisians are not hard, but they are resilient – they have inner elegance.
6.) Lingerie. When I see my daughters shopping for lingerie these days, I can tell that they grew up here. In Paris there is a lingerie shop at every corner and we know why. A well cut bra, some lace, a matching set of underwear and you are guaranteed to face the day with more confidence: such is the transformative power of beautiful lingerie. Just like great food, beautiful lingerie is something that's in my DNA now. At the same time, les Parisiennes know that mystery is what is sexiest. Plunging necklines or vulgarity are not our thing. We wear lingerie for our own pleasure first.
7.) Croissants. Croissants are daily magic. On the one hand, you can find them on every corner, they are cheap and could be wolfed down in two bites.  But that is not understanding croissants at all (can you detect a certain passion :)? ). Croissants are bakery in perfection. Each croissant has a personality and reveals instantly the quality of its ingredients and the savoir faire of its baker  (this is 20 years of an unshadowed love story with croissants speaking).
This is (the tip of the iceberg) of what Paris has taught me. What about you? Whether you stayed in Paris 3 days or 3 years, whether you live here or dream about coming here – what are the things you learned from Paris? I'd love you hear! Share in the comments, please.